If updating the direction of your bedroom design is currently on the top of your to-do list, keep the look and feel of it on trend with the three trends we're currently loving at Snooze: solid Australian hardwood, classic curved upholstery and a bold colour palette. Finish with luxurious bed linen, beautiful throws, soft pillows and bedroom furniture to ensure your bedroom is transformed into the comfortable, inviting sanctuary that you deserve.
1. It's all natural
Characterised by simple, clean lines this trend puts high quality, natural furniture at the forefront. The use of Australian hardwood within the bedroom brings a sense of warmth and relaxation. Freshhome suggests placing the bed close to a natural source of light to instantly bring calm into your space and accentuate the naturality of your bedroom furniture. The beautiful Silhouette bed frame with trapeze base features a contemporary, relaxed design to inspire serenity within your bedroom. Complement with coordinating storage pieces like a bedside table or chest of drawers and linen in an on-trend shade of mustard.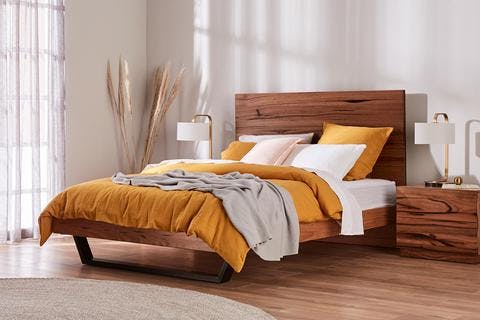 2. Ahead of the curve
Curves are making a shapely statement in Australian bedrooms. As a tribute to the 1970's, this retro-inspired trend embraces bed frames with a soft, fluid silhouette. According to Homes to Love when decorating with curved furniture, you should keep the colour scheme to sophisticated neutral shades and introduce at least one piece of furniture with angles to balance out the volume. Cue the Bentley which features curvature throughout the bed frame headboard and base and would make the perfect addition to your bedroom if you're looking to embrace this style.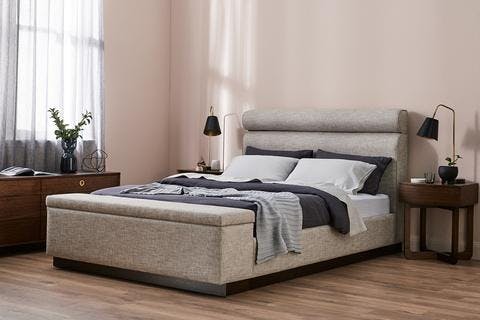 3. Colour me happy
Embrace a bold colour scheme within your bedroom. The colour you choose should reflect how you want to feel when you enter your restful space according to Ideal Home. Choose a blue colour scheme to induce calming, green for added serenity and neutral shades like white, beige & light grey for peacefulness. Pink is the perfect hue to use if you want to introduce a touch of sophistication and elegance into your bedroom. The Stratus bed frame pictured here in Warwick 'Lovely Blossom' fabric can be customised in any colour to bring your dream bedroom to life. Accessorise with bedding in varying shades of charcoal, delicate pink and marle.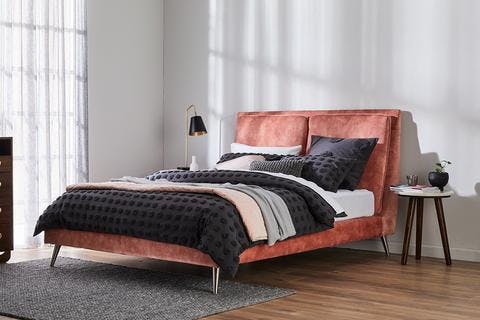 References
Elle Decoration Forecast A/W 2019